Peregrine Falcons
(Falco peregrinus)
Where: Shenandoah National Forest, VA • Hawksbills Mountain
Notes: These three females are part of a relocation program at the Shenandoah National Park which began working cooperatively with the Center for Conservation Biology at William and Mary and Virginia Department of Game and Inland Fisheries to boost Peregrine Falcon populations in the Virginia Mountains. There are five total birds released this year, four females and one male. All five were seen near the summit where they were released at Hawksbill Mountain near mile post 47 on the Skyline Drive. They are covering thier food with their wings to protect it from the Turkey Vultures.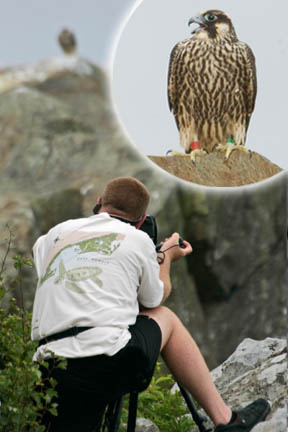 photo by Paul McCroskey
iPhotoBirds Print Peregrine Falcons (PEFA-H-1038)
Archival quality fine art print, standard size for easy framing, hand signed by the artist, with white matte, backing board and clear protective cover. Image cropping may vary slightly depending on print size.
Print Size: 5" x 7" (with 8" x 10" Matte) . . . $20.00
Print Size: 8" x 10" (with 11" x 14" Matte) . . . $40.00
Print Size: 11" x 14" (with 16" x 20" Matte) . . . $75.00
Shipping and Handling is $5.95 TOTAL PER ORDER TOTAL (US Mail), no matter how many items purchased. Virginia State sales tax applies to in state shipping addresses.

Satisfaction Guaranteed or Full Refund.
Distributed by Infinity Graphics.

Equipment: Canon EOS D20 with 100-400mm Zoom L Series Lens with Image Stabilizer at 340mm with 2X converter • Manfrotto Tripod • 3' shutter release cable
Exposure: Shutter Speed = 1/400 • Aperture = f 18.0 • Exposure Mode = Manual • Lens (Focal) Length = 680 mm (340 mm w/ 2X converter) • ISO = 800 • Aprox. Distance = ~120 Feet • Date Shot: 06-25-06