Common Birds of Virginia
The Simple One Page Bird Guide
Now over 13,000 in circulation!
"Common Birds of Virginia" ID card is a single (8.5" X 11") trifold brochure, gloss coated on sturdy stock that presents thirty commonplace species from around the Commonwealth. This item is a simple bird identification solution for any novice or backyard birder. Thumbing through the average bird book with three to five hundred pages can become a daunting and frustrating experience for most. Originally developed as a handout for elementary school children, the publication was so well received that many of the teachers got extra copies for themselves. Since then, numerous organizations have utilized this easy to use pamphlet including: Audubon Chapters, Bird Clubs, Master Naturalists, after school science programs and more. This straightforward piece is ideal for visitor centers, outreach programs, local bird walks, schools and other educational events. Great for all ages! • LARGER VIEW

Common Birds of Virginia - trifold brochure - full color, two sided printing on sturdy #100 cover weight gloss stock, UV coated on both sides for durability.
Quantities Available:
Qty. 1 = $1.00
Qty. 5 = $4.00 ($0.80 ea.)
Qty. 10 = $7.50 ($0.75 ea.)
Qty. 25 = $16.25 ($0.65 ea.)
Qty. 50 = $30.00 ($0.60 ea.)
Qty. 100 = $55.00 ($0.55 ea.)
Qty. 250 = $145.00 ($0.58 ea.)
Qty. 500 = $260.00 ($0.52 ea.)
Qty. 1,000 = $356.00 ($0.36 ea.)

We can also customize this piece for your organization with orders of 1,000 or more. For cutom orders or additional quantities CONTACT US.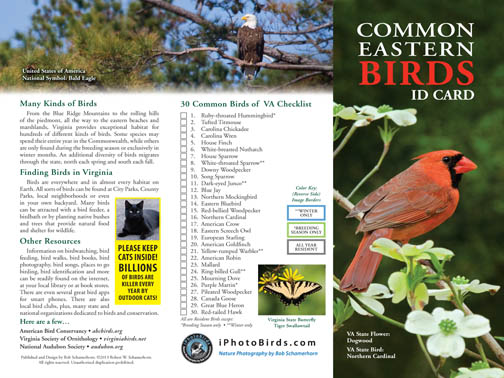 Species key and information • LARGER VIEW
A Mother's Gratitude:

"Just wanted to Thank You for giving the kids the bird guide for Virginia. My son Jack took it straight away into his bedroom and started drawing. He wanted me to send you the sketch and to tell you thank you…"
- Jack's mom, Kara
Her Mother's Message:
"She keeps the pamphlet in her backpack and lately, when she gets recess, she pulls it out to help identify. It's a very nice tool …"
- Lisa M.