iPhotoBirds Gallery: Panoramic Prints
These panoramic images divert form the standard 2:3 photograph ratio to create a unique perspective and look (VERTICALS AT BOTTOM). Archival quality, signed, fine art panoramic 10"x16" prints are matted to a standard 10"x20" for easy framing. CLICK THUMBNAILS BELOW TO ENLARGE THE VIEW. If you don't see something you are looking for? Try a SITE SEARCH or CONTACT us with your request. Available at art shows SEE: EVENTS. ALL of images are of wild animals.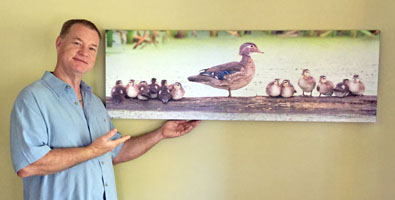 SUPER SIZE IT!
Some images available in 16" X 48" Gallery Wrap Canvas.