About iPhotoBirds
iPhotoBirds is the compilation of the photography efforts and labors of nature enthusiast Bob Schamerhorn. This all began with the purchase of a "semi-SLR digital point and shoot camera back in 2004. The digital age provided a means to take a LOT of photos with little cost association. Finally the guidance came to upgrade to a full SLR body and quality lens. The improvement in equipment provided a leap in the visual quality of the images captured, and this sparked even further interest in this pursuit. A desire to share the beauty of the wildlife he had captured sparked the Picture of the Week photo-blog and a commitment to share an image and a weekly story about his adventures.
Biography - Bob Schamerhorn
"I'm an enthusiast not an expert…"
Bob's fascination with nature has been with him since childhood. This interest had him exploring everywhere from his neighborhood creeks in Lynchburg, Virginia, to the foothills of the Blue Ridge Mountains, all the way to the salt-marshes of the Outer Banks, North Carolina. He is a fledgling of the Virginia Society of Ornithology (VSO) and the Lynchburg Bird Club of the 1970's, which as a youth sponsored him twice to the Virginia Garden Club's Nature Camp. He graduated from E. C. Glass High School in 1979 and attended college at Virginia Tech in the early 1980's, where he studied Art and Design.
Afterwards, Bob returned to his hometown and worked in several creative positions such as: engraver, canvas-painting artist, draftsman and graphic designer. He eventually married and bought a home in Bedford County, where he raised his son, Michael. In 1996, he started a business, Infinity Graphics, which specializes in website design, packaging design and start-up business branding. He has helped publish a couple of bird books and illustrated a few children's books as well. Several of his photos have won RECOGNITIONS and appeared in publications such as Virginia Wildlife, Virginia Living Museum, Audubon's Virginia IBA, eBird's website and Nature Friend Magazine and more. For years he has maintained a weekly Photo-Blog which has hundreds of followers. In 2008, and every year since, he has published a CALENDAR. In 2013 he began showing his photography at various festivals and EVENTS.
Bob is currently a resident of Richmond, where he lives with his wife, best friend, and number one supporter, Lori. As an advocate of conservation, he frequently shares his experiences with nature at over ninty VENUES and with a variety of organizations. He gets out with his camera to enjoy the birds and the outdoors at any opportunity that presents itself. He loves to share the beauty of God's creatures, that it might bring an appreciation of nature to others.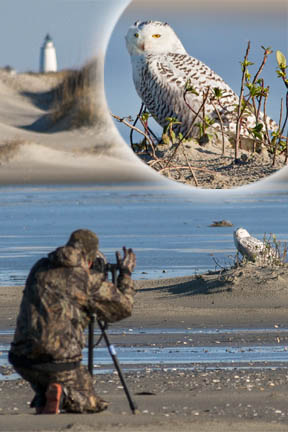 Photographing a rare Snowy Owl on the open beach at Ocracoke Island, NC.
(photo by Bill Birkemeier)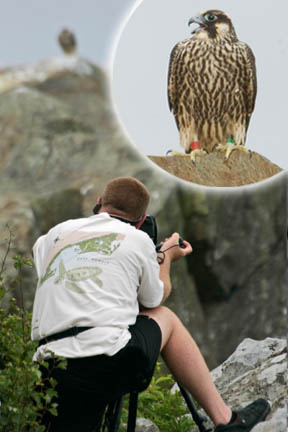 Shooting Peregrine Falcons at the summit of Hawksbill Mountain in Virginia's Shenandoah National Park along the Skyline Drive.
(photo by Paul McCroskey)